British History Online - Parishes: Great Faringdon pt4
Oriel College, Oxford.
Gules three leopards or and a border engrailed argent
.
Great Faryngdon alias Chepyngfaryngdon (xv cent.).
'Parishes: Great Faringdon', in A History of the County of Berkshire: Volume 4, ed. William Page and P H Ditchfield (London, 1924), pp. 489-499. British History Online.
The earliest known lessees of the manor were members of the family of Umpton or Unton. Thomas Unton was living at Wadley in 1514,
(fn. 185)
and was probably the 'Master Vinton' mentioned by Leland.
(fn. 186)
By his will proved in March 1533–4 he left his farm of Wadley to Elizabeth his widow for life with remainder to his son Alexander,
(fn. 187)
whose will made in December 1547 was proved in May 1549.
(fn. 188)
His son Edward Unton married Anne Countess of Warwick in 1555,
(fn. 189)
and was knighted at Queen Elizabeth's coronation.
(fn. 190)
He died in 1583, leaving two sons, Edward and Henry.
(fn. 191)
Colonel Edward Unton, the heir, was killed in 1589 on active service against the Portuguese.
(fn. 192)
Sir Henry, his brother and heir,
(fn. 193)
was ambassador to France in 1591 and in 1595
(fn. 194)
; he died in France in March 1595–6, leaving many debts; his heirs were his sister Cecily wife of John Wentworth, and nieces Elizabeth, Anne and Mary, daughters of his other sister Anne wife of Valentine Knightley.
(fn. 195)
Sir Valentine after a long family quarrel made good his claim to the lease of Wadley, and died there in December 1618.
(fn. 196)
His only son Richard had died before this date, and Sir Valentine left his leases of Wadley and Wicklesham to George son of his daughter Mary by George Purefoy of Drayton, Leicestershire.
(fn. 197)
George Purefoy and George his son made a settlement of the tithes of Wadley and Wicklesham in 1627.
(fn. 198)
George the younger was Sheriff of Berkshire in 1640,
(fn. 199)
and died in 1661.
(fn. 200)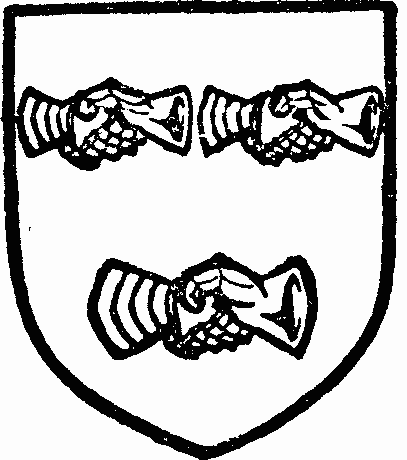 He was succeeded by his son George,
(fn. 201)
who married Catherine widow of Sir James Bellingham and daughter and co-heir of Sir Henry Willoughby of Risley
(fn. 202)
; their heir, Henry Purefoy, was created a baronet in 1662, in his father's lifetime and when only five years old.
(fn. 203)
He died without issue in 1686, and Wadley with all his other lands in Berkshire passed under his will to his kinsman Sir Willoughby Aston, bart.
(fn. 204)
Sir Willoughby was the son of Anne, third daughter of Sir Henry Willoughby of Risley, by her husband Sir Thomas Aston
(fn. 205)
; he died in 1702, leaving his lease of Wadley to his younger son Richard Aston,
(fn. 206)
who died in 1741.
(fn. 207)
His son and heir Willoughby succeeded to the family baronetcy in 1744, on the death of his cousin Sir Thomas Aston.
(fn. 208)
Sir Willoughby married Elizabeth daughter of Henry Pye of Faringdon, and died in 1772
(fn. 209)
; in about 1764, however, he sold his lease of Wadley to Charles Pye.
(fn. 210)
WYKE
was probably the monks' demesne farm of Westbrook
(fn. 211)
; in 1291, indeed, the possessions of the abbey at 'Westbrocwyk' were separately taxed.
(fn. 212)
The grant of free warren obtained by the monks in 1359 included their land in Wyke.
(fn. 213)
It was regarded as a separate manor by 1417,
(fn. 214)
and in 1534 was leased for ninety-six years to William Pleydell.
(fn. 215)
It was purchased from the Crown in 1540 by Alexander Unton,
(fn. 216)
and descended with the manor of Wadley (q.v.) to the younger Edward Unton, who in 1585 conveyed it to Sir Henry Unton, his brother.
(fn. 217)
From this time it has followed the descent of the manor of Faringdon
(fn. 218)
(q.v.).
Churches
The church of
ALL SAINTS
consists of a chancel 54 ft. 6 in. by 19 ft. 6 in. with a north chapel 30 ft. by 16 ft., north transept 16 ft. 6 in. by 27 ft. 6 in. with a western aisle 15 ft. 9 in. wide, a south transept 18 ft. 9 in. by 27 ft. with a western aisle 13 ft. 6 in. wide, a central tower 16 ft. square, nave 54 ft. by 19 ft. with north and south aisles 8 ft. wide, north porch and a vestry east of the north transept. These measurements are all internal.
The clearstory and possibly the west end of the nave may be part of a 12th-century church. About 1190 to 1200 the nave arcades were perhaps inserted in the earlier walls, and the central tower was either built or rebuilt at the same time. The chancel and transepts with the upper part of the tower are of 13th-century date, and at this time the plan included a larger and smaller chapel east of the north transept. In the 14th century a western aisle was added to the north transept, and in the 15th century the inner chapel of the north transept
(fn. 219)
and the north aisle of the nave were rebuilt. The upper part of the tower with the south transept and the south aisle were destroyed in 1645 during the siege of Faringdon House. The church was restored in 1853, when the south transept with its western aisle and the south nave aisle were rebuilt. The outer north transeptal chapel and a baptistery on the north of the nave are also modern.
The chancel has three tall lancet windows of equal height in the east wall, and below them is a modern wall arcade with two lockers behind the altar. In the north wall are two 13th-century lancets similar to those on the east, and below them are two squareheaded lockers of differing size. Further west are two four-centred arches of the 15th century opening into the north chapel; the pier is octagonal and the responds semi-octagonal with moulded capitals and bases. The western arch is filled with a modern stone screen. There are six widely-splayed lancet windows on the south side similar to those on the north. Below the easternmost is a 13th-century trefoil-headed piscina with two drains, and under the second window is an elaborate triple sedile. The outer jambs and marble shafts are modern, but the three canopies are of the 13th century; the arches are cinquefoiled and enriched with small dog-tooth, and the hood has running foliage; an outer hood forms a gable over each, enriched with crockets in the form of fleurs de lis. Flanking the sedilia are gabled and embattled pinnacles with heavy finials. Below the third window is a round-headed priest's doorway of c. 1200. The westernmost window forms a 'low side,' now blocked. The roof is of the trussed rafter type, and perhaps of the 14th century. The line of the earlier roof of steeper pitch is visible on the east face of the tower. The north chapel has a five-light square-headed window of the 15th century in the east wall, and below it is a modern doorway. On the north and south are brackets with a squareheaded niche above that on the south. In the north wall is a 15th-century window of four lights under a square head, and further west is a modern door to the north chapel or vestry.